IOC, diplomats confident of safe Winter Games
Share - WeChat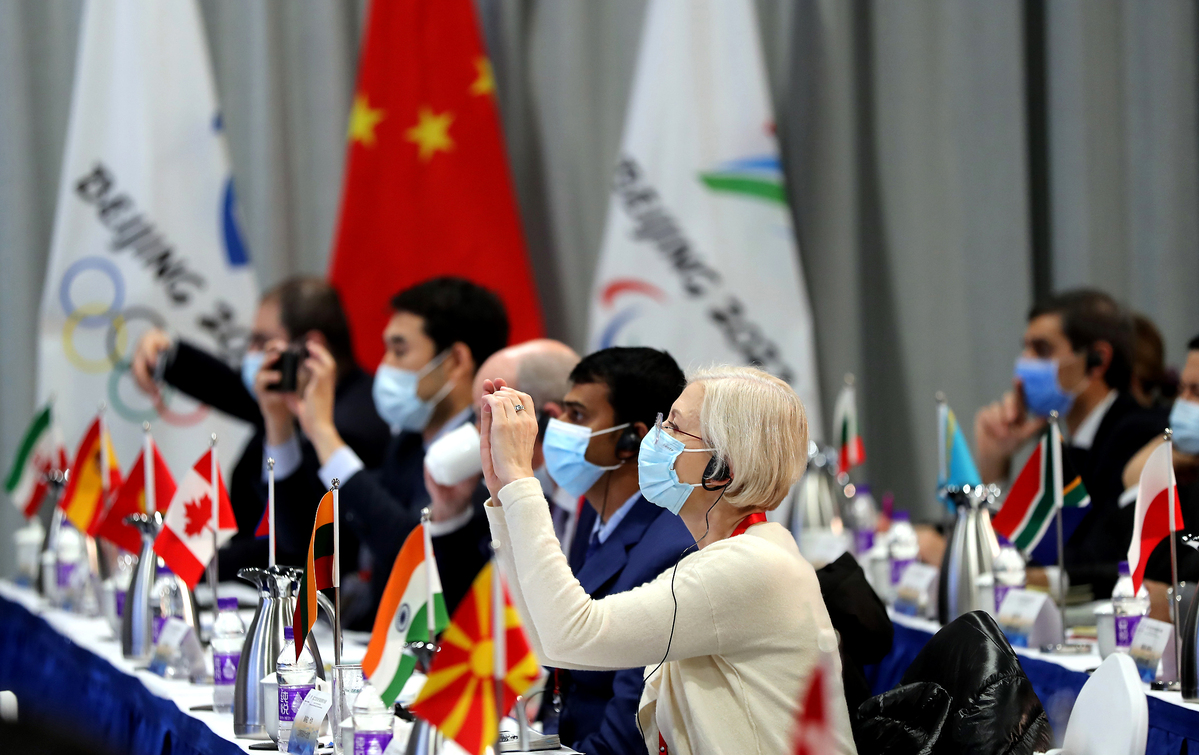 With the Beijing 2022 Winter Olympics just around the corner, the International Olympic Committee and diplomats from major winter sports nations have reaffirmed confidence in witnessing successful and safe Games despite the COVID-19 pandemic.
Just over two months out from the opening of the Beijing 2022 Games on Feb 4, global anticipation for the winter sports showpiece is surging, evidenced by heated discussions among 120 ambassadors, officials and national Olympic committee representatives from over 70 countries during the Games' second diplomatic briefing held at western Beijing's Shougang Industrial Park.
During the two-hour meeting, Beijing 2022 organizers delivered reports on the latest of the capital's preparatory work, together with co-host city Zhangjiakou, Hebei province, for next year's Games in a wide range of topics, including venue readiness, competition operation, COVID-19 protocols and legacy.
Officials from the Ministry of Foreign Affairs also elaborated on the international dignitary program covering arrival and departure, accommodation, transport and security for visiting state leaders and sports ministers during the Games.
Beijing 2022 remains open to suggestions from all stakeholders and is committed to working closely with the international community to overcome the pandemic challenges to host streamlined, safe and splendid Games, said Zhang Jiandong, executive vice-president of the Beijing 2022 organizing committee.
"Our preparation has entered the final sprint and we'd like to strengthen cooperation with all relevant international organizations and especially foreign embassies to make sure that all work will be completed on schedule and services for international dignitaries will be provided to high standards," Zhang, also a vice-mayor of Beijing, said during the briefing.
Having completed all 12 competition venues, Beijing 2022 organizers are now busy running a series of international test events to evaluate venues and facilities, media operation, COVID-19 protocols and services.
These tests were held under closed-loop management, where athletes, coaches and technical delegates are required to stay within a biosecure bubble with their movement confined to between their hotels and training and competition venues away from the local communities.
Based on feedback from the rehearsals and suggestions from health experts, Beijing 2022 will release next month the second version of its COVID-19 playbook, a broad guideline for all Games participants, which is expected to detail all the measures and principles outlined in the first edition issued in September.
Juan Antonio Samaranch, chairman of the IOC's Beijing 2022 Coordination Commission, gave a thumbs-up to Beijing's diligent preparation and vigilant COVID-19 countermeasures for the Games.
"It's a very long and complicated journey, not only for the intrinsic difficulties of organizing Winter Games, but also having to organize that in a COVID-ridden environment," he said.
"But I'm very proud to inform you that we are fully confident to deliver extraordinary Games in February.
"But in order to be excellent, first of all, they have to be safe. We are very confident in the health secure measures taken by our hosts in Beijing with the expert support from the World Health Organization that the Games will be safe."
Having witnessed Beijing 2022's smooth progress despite the pandemic, foreign diplomats based in China have set their expectations high on enjoying their own athletes' stellar performances at the Games in a safe and well-organized way.
"I have had the chance to visit some of the venues and I've had a look at all the work that's been going on to prepare the venues. I'm quite confident that China will be ready and well-prepared when the Games start in February," said Signe Brudeset, Norwegian ambassador to China, who herself had tried the ski slopes at the Olympic venue in Beijing's Yanqing district.
Citing the ongoing cooperation between her country and China in winter sports development, Finnish ambassador to China Leena-Kaisa Mikkola expects Beijing 2022 to open up more opportunities for exchange.
"We see the continuation rather bright and it's not only the Olympics where we can have common endeavors, but also after that," she said.