Deal delivers new German ruling coalition
Share - WeChat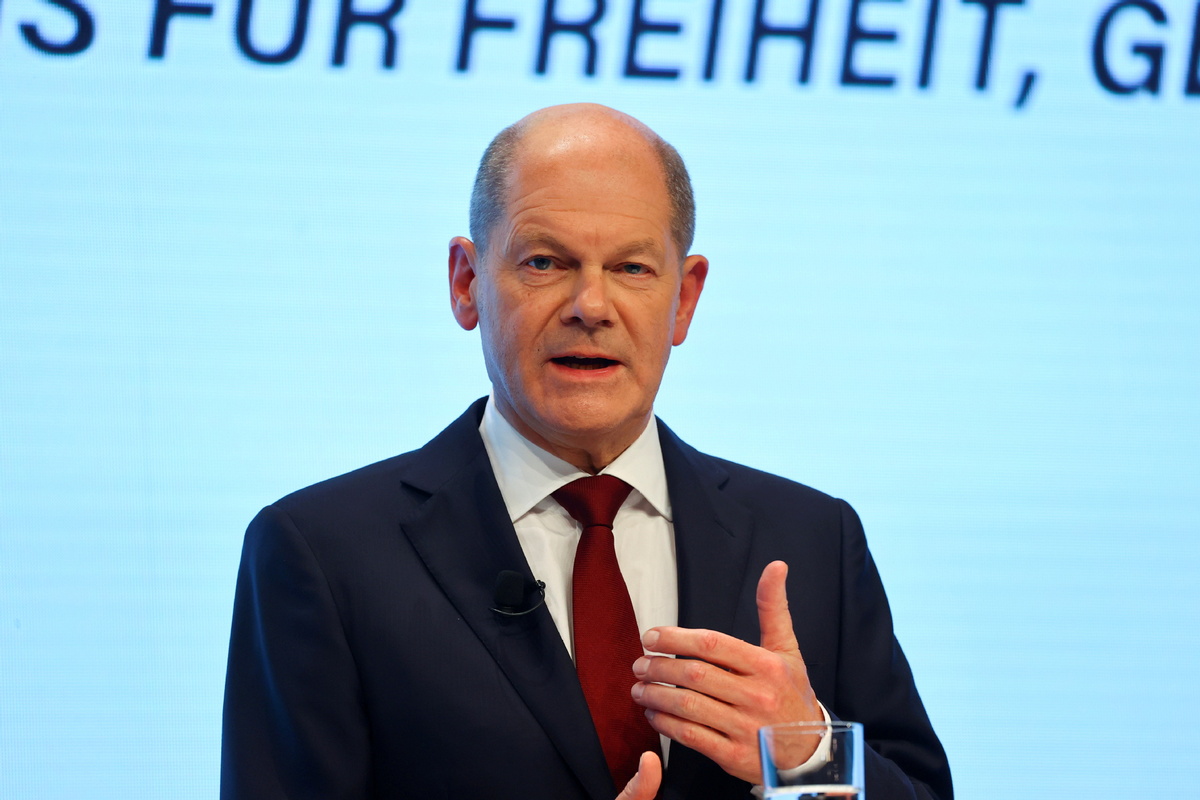 Scholz to replace Merkel as chancellor, with climate, virus responses key tasks
Olaf Scholz of Germany's Social Democratic Party, or SPD, will be the country's next chancellor, replacing Angela Merkel, after three political parties finalized a deal for a coalition government that will likely begin work weeks before Christmas.
The deal, announced at a news conference on Wednesday afternoon, came after 21 representatives from the center-left SPD, the environmentalist Greens and the pro-business Free Democratic Party, or FDP, met to conclude their deal early in the day.
"During these days and weeks, we have negotiated closely, intensively and sometimes passionately and, above all, trusting one another," said 63-year-old Scholz, who has served as vice-chancellor and finance minister in Merkel's government since 2018.
FDP leader Christian Lindner, 42, who is likely to be the finance minister, said "we take on responsibility for a country in a dire situation" and that "there is a will and desire for change" in Germany.
Greens co-leader Annalena Baerbock, 40, is likely to become the new foreign minister. She has advocated a "common European response" to tackle climate change. Robert Habeck, another co-leader, is set to become the minister for economy and energy.
100,000 deaths
The new coalition has promised to put the priority on fighting the COVID-19 pandemic as Europe's largest economy battles a fresh surge in cases.
On Thursday, the Robert Koch Institute, a public health agency, said more than 100,000 people had died of the coronavirus in the country since the start of the pandemic.
The health crisis is posing an immediate challenge to the new coalition government.
"We still haven't defeated corona. Day after day we are racing to new records," Scholz said on Wednesday.
Scholz said he plans to set up a coronavirus crisis team at the chancellery to coordinate health policy between the federal and regional governments. He also noted that the government would consider applying mandatory COVID-19 vaccinations for select groups.
"Vaccination is the way out of this pandemic," he said, adding that "we must vaccinate and give booster shots to prevent the spread of the virus".
In an agreed coalition document of more than 170 pages made public on Wednesday, the three parties promised that immigrants will be able to apply for citizenship after five years and will be allowed dual citizenship. The pledge opens the door to citizenship to millions of foreign nationals in Germany, including many ethnic Turks who have lived in Germany for decades.
A points-based immigration system will be created to attract qualified workers, the coalition said.
The coalition agreed to phase out coal by 2030, to increase the minimum wage to 12 euros, to lower the voting age to 16 and to legalize the regulated sale of cannabis. It also pledged to build 400,000 apartments every year to tackle a housing shortage.
The three parties will now take their agreement to their party members for approval likely in early December and they expect the German parliament, the Bundestag, to elect Scholz as the chancellor in the second week of December, German broadcaster DW reported.
China policy
On China, the unveiled document said "we want and need to construct our relations with China along the dimensions of partnership, competition and systemic rivalry", a clear reflection of the European Union's current policy.
Chinese Foreign Ministry spokesman Zhao Lijian said on Thursday that Beijing attaches great importance to the all-around strategic partnership with Berlin and believes that the sound development of bilateral ties serves the common interests of the two countries and two peoples and also is conducive to promoting China-EU Exchanges and cooperation.
Next year marks the 50th anniversary of the establishment of diplomatic ties between China and Germany. "We hope that the new German government will continue its pragmatic policy toward China, meet China halfway, develop bilateral ties on the basis of mutual respect and mutual benefit, and concentrate on promoting practical cooperation between China and Germany in all aspects," he told a news conference in Beijing.
Agencies contributed to the story.