UK, France apportion blame after drownings
Share - WeChat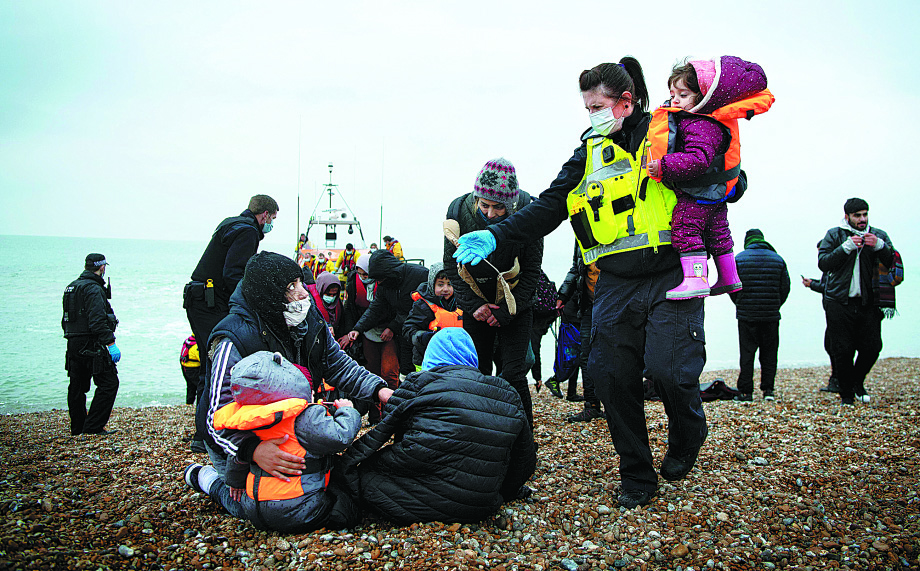 People-smugglers to be targeted after 27 migrants die trying to cross Channel
Britain and France traded blame on Thursday after 27 people died trying to cross the English Channel in what is described as the worst disaster on record involving migrants in the seaway that separates the two countries.
French officials said 17 men, seven women, one of whom was pregnant, and three young people died in freezing cold water when their small rubber dinghy deflated near the coast of Calais, France.
Agency reports say two survivors, one Iraqi and one Somalian, are in a critical condition in a French hospital.
Official figures show the migrant crisis has escalated, with more than 26,000 people arriving by small boats this year, which is three times the number last year, noted ITV News.
The government has accused France of not doing enough to stop the boats but France has criticized the UK immigration system.
Speaking to British broadcasters late on Wednesday, British Prime Minister Boris Johnson said the tragedy showed efforts by French authorities to patrol their beaches "haven't been enough".
French President Emmanuel Macron stressed "the shared responsibility" of France and the UK, according to a statement from the Elysee.
French Interior Minister Gerard Darmanin slammed the UK's migration policy, accusing Britain of handling the crisis badly, the BBC reported. He added that Belgium, Germany and other countries could do more to help France tackle human trafficking issues.
The Guardian reported that Macron has also called for an emergency meeting of European government ministers and an immediate funding boost for the European Union's border agency, Frontex.
In phone call on Wednesday between Johnson and Macron, there was an agreement to keep "all options on the table" to stop migrants crossing the Channel, according to official statements.
A spokesperson for Johnson said the two leaders "agreed on the urgency of stepping up joint efforts to prevent these deadly crossings and to do everything possible to stop the gangs responsible for putting people's lives at risk."
In his comments to media, Johnson said: "I just want to say I am shocked and appalled and deeply sad by the loss of life that I see in the Channel."
He added: "I say to our partners now is the time for us all to step up, to work together, to do everything we can to break these gangs who are literally getting away with murder."
On Thursday, a French politician claimed the leaders of human trafficking networks live a comfortable life in the UK in "beautiful villas", reported Sky News.
Franck Dhersin, the vice-president of transport for the northern Hautsde-France region, told French TV station BFMTV: "To fight them, there's only one way-we need to stop the organizations, you need to arrest the mafia chiefs.
"And the mafia chiefs live in London. They live in London peacefully, in beautiful villas, they earn hundreds of millions of euros every year, and they reinvest that money in the City. And so it's very easy for the tax authorities to find them".
UK Immigration Minister Kevin Foster told ITV News the French and British governments were concentrating on "breaking the business