Inspiring Jilin woman named among national role models
Share - WeChat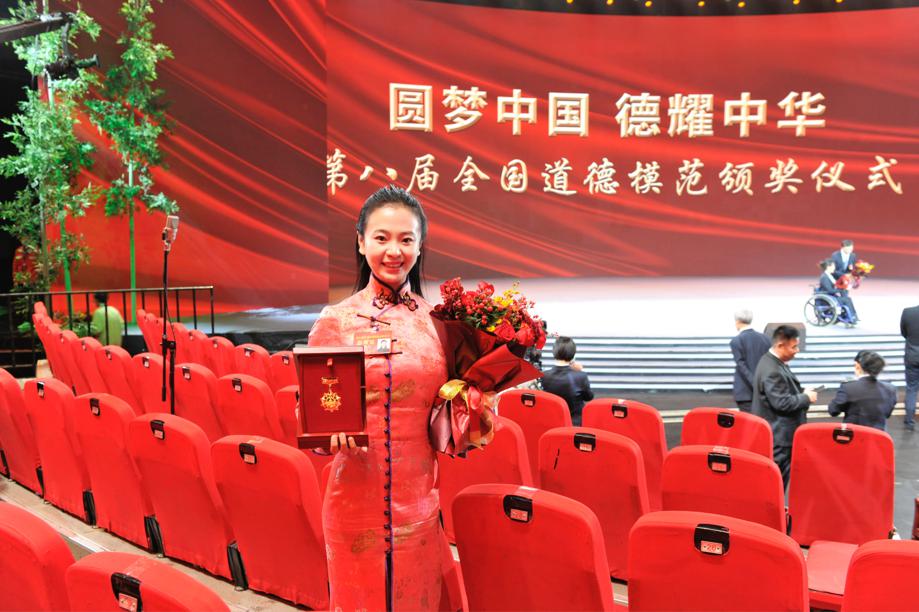 Over the past six years, Zhang Chaofan has donated 1.35 million yuan ($211,000) and raised 5.2 million yuan from the public to help more than 400 people with health problems — including teachers with cancer, disabled children and autistic children in poor families — learn traditional Chinese culture.
She has also made more than 700 public welfare speeches at universities and in poor mountain areas, teaching self-respect, self-confidence, self-reliance and self-improvement.
Zhang, 29, was born without a left forearm in Changchun, Jilin province, but her constant drive to become stronger has inspired many.
She was chosen along with 67 other honorees on Friday to receive the National Ethical Role Model award at the Great Hall of the People in Beijing. In addition to the top award winners, 254 nominees were recognized.
In 2015, Zhang declined an offer of postgraduate study from Beijing Technology and Business University and set up a calligraphy and painting school in Changchun. When she found that some parents were unable afford their children's education fees, she made the lessons free and began providing 300,000 yuan annually to help them through her foundation.
"I think it's important for teenagers to receive quality education because they are the future of our country," she said. "I will make every effort to help them get equal opportunities to pursue their dreams and inspire them to do their best."
In early 2020, her school was forced to suspend all courses because of the pandemic, but she didn't stop her public welfare activities.
Uniting and mobilizing power from all sectors of society, she raised materials and donations worth more than 8.9 million yuan.
Then she sent medical masks, protective suits, disinfectant and daily necessities to workers on the front lines of the anti-virus fight.
"Females in the new era should have the courage to create value and also have sense of social responsibility," she said. "It is my great honor to be elected as a model. This will become a driving force for me to forge ahead and pass on the seeds of public welfare through even greater efforts."
The National Ethical Role Model award is given by six departments of the central government, including the Publicity Department, Central Civilization Office, All-China Federation of Trade Unions, Central Committee of the Communist Youth League, All-China Women's Federation and the Political Work Department of the Central Military Commission.